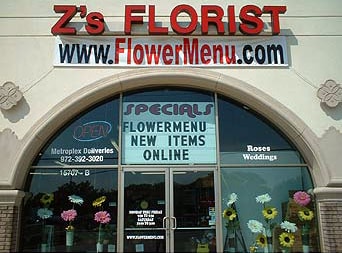 Z's Florist Shop History
Z's FLORIST is one of Dallas' oldest family-run flower shops. It is one of the few flower shops left that customers can place their orders with the owner. The Z's FLORIST location you are looking at is located in the north Dallas area.

In 1974, Bobby and Madalyn Zimmermann opened their first flower shop in Austin, TX. They had all 3 sons working in the shop... Michael, Steven, and Andrew. So, after 6 years of chasing the kids around the store, the family moved to Dallas, TX. Steven went on to open his own Z's FLORIST in Plano, TX. Michael went on to real estate. In 2003, Andrew opened his own store in the same neighborhood he and his brothers grew up in.

Andrew wanted to consolidate his parents location with his. So, after "putting a pencil to it", Andrew and his parents, Bobby and Madalyn, combined locations to form one large full-service florist. By having 3 owners onsite, dividing responsibilities, and keeping a loyal staff, the Z's have expanded their floral and wedding businesses while improving quality and service at the same time.

Even the website has a "family feel" to it. The website was designed to be as customer friendly as possible, with authentic pictures to show you exactly what you're ordering.


The Z's FLORIST family prides themselves on their customer service and quality work for over 41 years...and counting.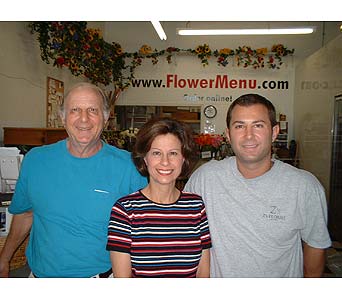 Andrew and his parents, Bobby and Madalyn, own and run this flower shop together (with minimal fighting).


Pictured from left to right:

Bobby (dad), Madalyn (mom), and Andrew (the son).